You may purchase tickets to the 2013 Great American Think-Off by clicking on the Brown Paper Ticket widget below.  You will be connected to the Brown Paper Ticket website for secure online ticket purchase.  There is an option to purchase tickets at the advance ticket sale price ($12) and also to purchase tickets to both the Think-Off on the 8th of June and to the pre-Think-Off concert with Larry Long on the 7th of June.  Go to the Larry Long Concert link here to learn about this concert.  If you purchase tickets to both the Larry Long concert on June 7th and the Great American Think-Off you receive both tickets for $20, a savings of $4 for the two tickets.
You can also purchase Philosopher tickets to the Think-Off.  The price of a philosopher ticket is $50 and helps us cover the costs of producing the annual Great American Think-Off.  Philosopher tickets provide seating in the first three rows at the James Mann Center for the Performing Arts for an up-close and personal admission.  The Philosopher ticket also gives the bearer admission to the Larry Long concert on the Friday before the Think-Off (June 7).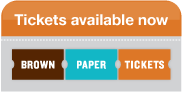 The 2013 Great American Think Off will be moderated by public television host, John Forde. John is the creator of 'Mental Engineering' a weekly program featuring professors and comedians deconstructing television commercials. Regular panelists included the creators of 'The Simpsons' and 'The Daily Show'.
'Mental Engineering'  was carried on 100 PBS stations nationwide. Bill Moyers called 'Mental Engineering' "the most interesting weekly half hour of social commentary and criticism on television." John has been featured in the New York Times and on 'Charlie Rose'. He lives in St Paul with his wife Catherine Reid Day and their daughter, Kara.
Think-Off Finalists hail from the South and from Minnesota
The four finalists for the 2013 Great American Think-Off have been selected and have agreed to come to New York Mills to participate in the 21st annual debate on June 8th at 7 pm.  This year's question is "Which is more ethical:  sticking to principle or being willing to compromise?"  Two of the finalists, both arguing for principle, hail from the American South and two, both arguing for compromise, live in Minnesota.
Caroline Zarlengo Sposto recently retired from a long communications career to start writing fiction and poetry. Her stories and poems have been published by "The Saturday Evening Post" and "Family Circle" magazines as well as various literary magazines and anthologies. She lives with her husband in Memphis, Tennessee where she is an active community volunteer. Their two grown daughters live in New York City. Caroline has a B.A. in English from The University of Colorado and an M.S. in Electronic Media from Kutztown University.
David Eckel is a writer and philosopher whose day job is small business IT and marketing. An MIT graduate in Management
Science, Dave's checkered past includes developing a non-reversing mirror as well as working for start-ups in the plastics and telecom sectors before founding a software company whose diverse clients include an oil field services company and an antique mall. Close to home he's the neighborhood's computer fix-it guy and a junior golf teacher. This varied background had contributed to an intuitive style of problem solving that at times yields surprising results when applied to matters of philosophy.
Dave lives in Clayton, NC with wife Sandy and their rescue dogs Heart and Soul. When not in the fairways or hazards of a nearby dog friendly golf course they explore as a family the myriad of foot trails throughout North Carolina, from the Appalachians to the Atlantic.
As CEO of StayWell Health Management, Paul Terry directs client support, program evaluation, research and industry leadership and ensures the highest quality in program development and delivery. Additionally, Paul leads strategic planning and market presence, and provides consulting expertise on customer programs.  Prior to StayWell, Paul was the president and CEO of the Park Nicollet Institute, the research and education division of Park Nicollet Health Services in Minnesota. He also was a member of the health education faculty at St. Cloud State University and Hamline University.  Paul, a former Senior Fulbright Scholar and a past president of the Minnesota Public Health Association, serves as an editor of the American Journal of Health Promotion.
David Lapakko is an Associate Professor of Communication Studies at Augsburg College in Minneapolis, where he teaches
courses in Argumentation, Persuasion, Intercultural Communication, Organizational Communication, and Public Speaking.  He also teaches a communication ethics course in Augsburg's Master of Arts in Leadership program.  He received a B.A. from Macalester College in St. Paul, and an M.A. and Ph.D. in speech-communication from the University of Minnesota.  His textbook, Argumentation: Critical Thinking in Action (iUniverse, 2009) is now in its 2nd edition. His hobbies include distance running (six marathons and 30 half-marathons) and blogging (under the moniker "Contentious Introvert").  He considers the three most important people in his life to be his wife Helen, his son Tony, and his daughter Jamee.